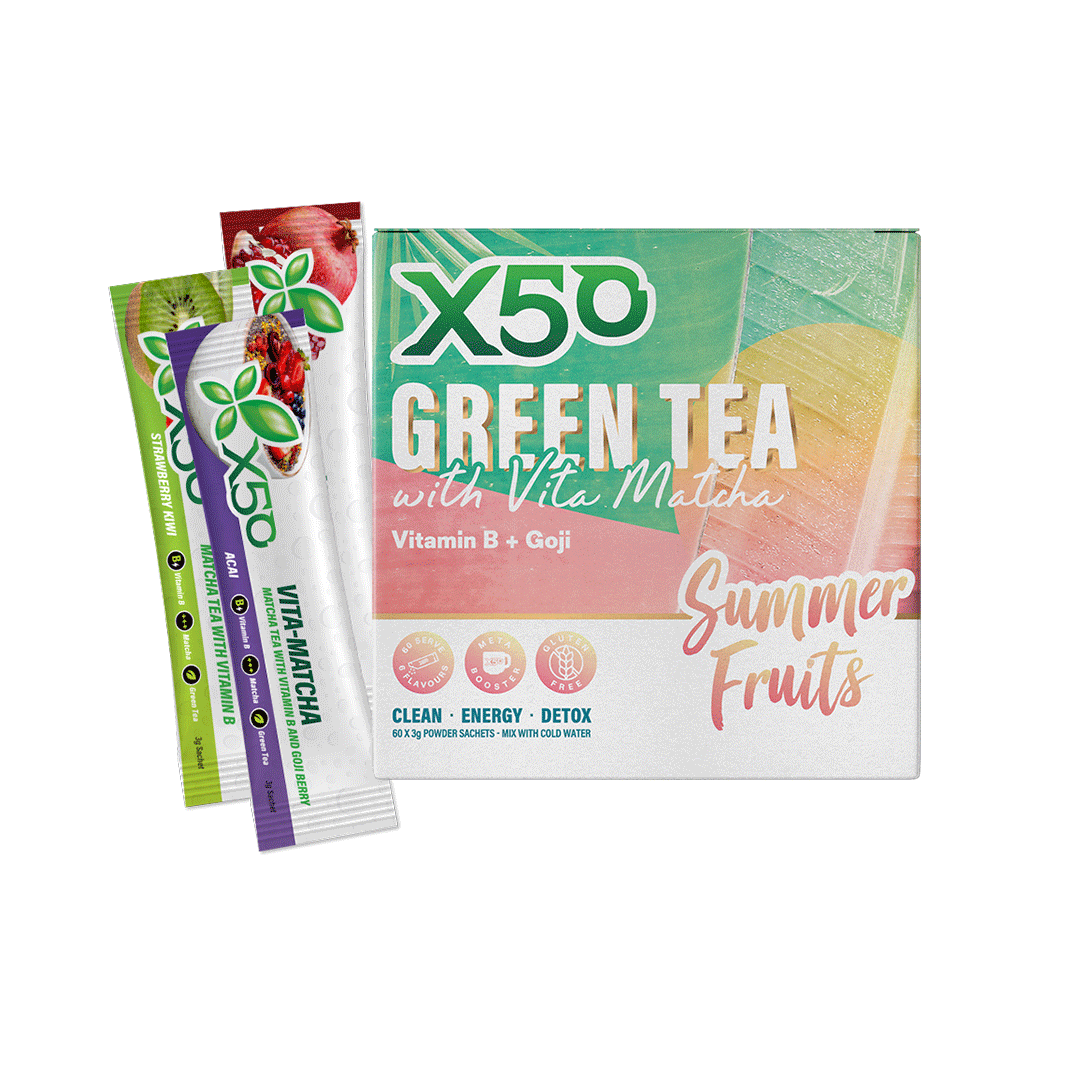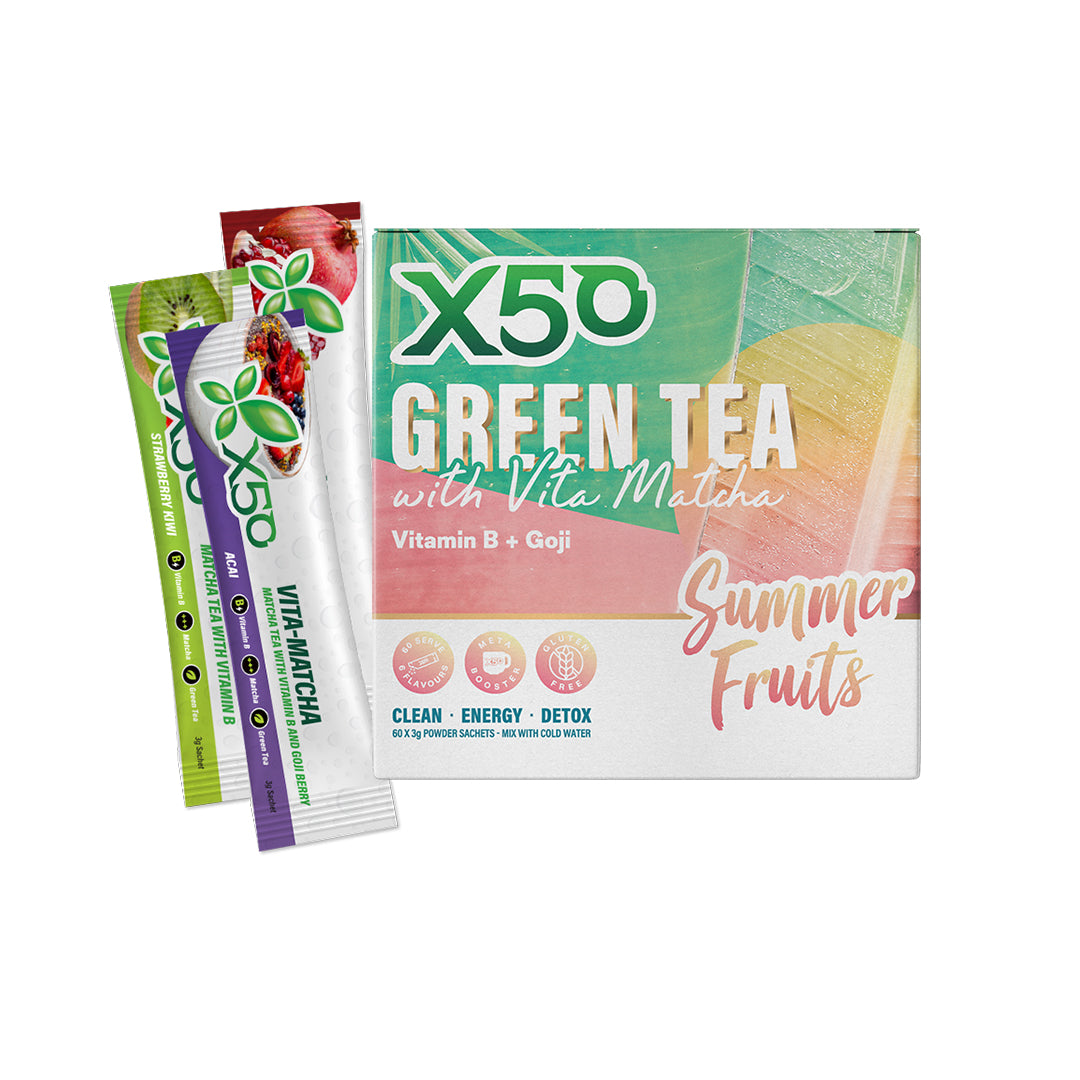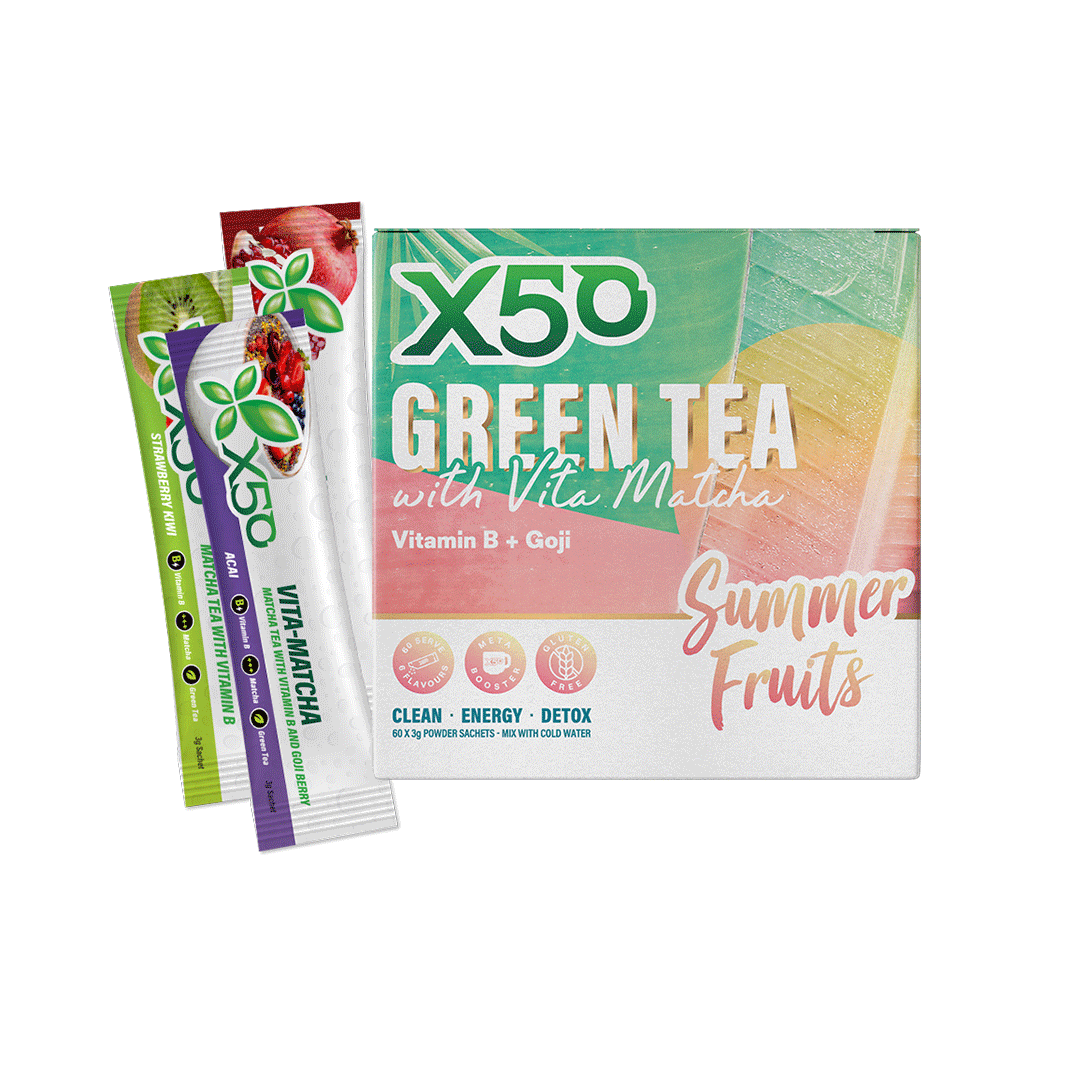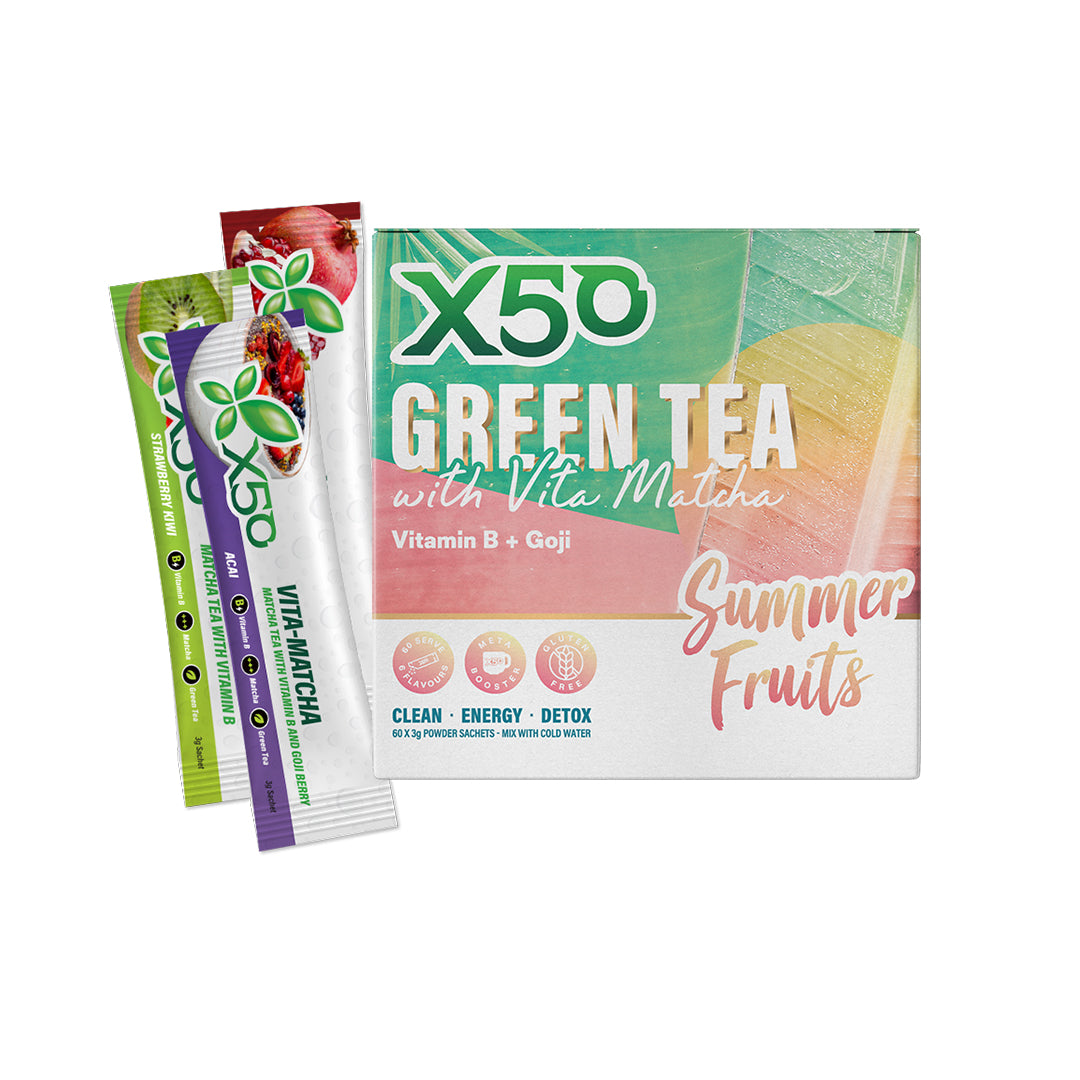 Green Tea X50 with Vita-Matcha 60's
Regular price
Dhs. 275.00
Sale price
Dhs. 275.00
Regular price
or 4 payments of Dhs. 68.75 AED . No interest, no fees.
Learn more
24 people are viewing this right now
Estimated Delivery:Oct 05 - Oct 09

Free Shipping: ON ALL ORDERS OVER AED 130
Elevate your daily hydration routine with Green Tea X50 with Vita Matcha, an exciting evolution of our beloved Green Tea X50. 🌟 Get ready for an explosion of unique flavors and powerful active ingredients!
We've brought in the formidable forces of ingredients, infusing this blend with potent polyphenols (those fantastic antioxidants found in green and matcha tea). This means you can sip your way to radiant, glowing skin, a metabolism kickstart, and enhanced gut health.
🍹 Simply add one sachet to a liter of chilled water and relish the infusion of Vitamin B and Magnesium, keeping your body energized and supporting post-workout recovery. If you're already a fan of Green Tea X50, prepare to fall head over heels for the NEW Green Tea X50 with Vita Matcha!
🌟 Benefits include:
💊 Vitamin B Complex: Boosts energy metabolism and supports overall health.
🔋 Magnesium: Essential for maintaining electrolyte balance, it ensures proper muscle function, nerve transmission, and overall bodily well-being.

🥛

Calcium

: Enriched with calcium lactate, it fortifies bone health and supports vital bodily functions, enhancing this formulation.

🍒 Goji Berry: Packed with antioxidants for immune support.
🍵 Matcha: Offers a significant boost in antioxidants compared to green tea for enhanced vitality.
⚡ Energy: Fueled by naturally occurring caffeine, it provides a natural and sustained energy boost, keeping you invigorated throughout the day.
🍵 UNIQUE BLEND: Our formula is a dynamic fusion of green tea and matcha, with matcha packing a whopping x137 times the antioxidant power of green tea. We've also loaded it with extra well-being superheroes like Vitamin B, which converts carbs into body fuel, and magnesium, your fatigue-fighting friend.
🥗 MEAL PLAN: Every pack of Green Tea X50 grants you FREE access to the complete Accelerated Weight Loss Program (AWLP). It's your all-encompassing guide to healthy eating and exercise, brimming with delectable recipes, meal plans, and lifestyle tips.
👜 HANDY SINGLE-SERVE SACHETS: Never be without your treasured Green Tea X50. Keep some sachets in your handbag, gym bag, or work bag!
Snip. Tip. Sip! Mix one sachet (3g) in 500ml of ice-cold water. Feel free to get creative by blending it with coconut water, sparkling mineral water, or incorporating it into your favorite smoothies! Enjoy up to two servings per day.
Do not use if seal is broken. Store below 30°C in a cool, dry place.
Contains approx. 84 mg of naturally occurring caffeine, the equivalent of an instant coffee*
NUTRITIONAL INFORMATION

 

-  GREEN TEA X50 ACAI
Serving size: 3g sachet
Average Quantity
Per Serving
Average Quantity
Per 100mL (when prepared as directed)
Energy
35 kJ
7 kJ
8 Cal
2 Cal
Protein
0.2 g
37.2 mg
- Gluten
0.0 g
0.0 g
Fat, Total
0.0 g
0.0 g
- Saturated
0.0 g
0.0 g
Carbohydrate
1.6 g
0.3 g
- Sugars
0.0 g
0.0 g
Sodium
0.6 mg
0.1 mg


INGREDIENTS: Green Tea (Camellia Sinensis Extract 55%), Matcha Extract (6%), Goji Berry Extract (3%), Emulsifier (Maltodextrin), Sweetener (Xylitol), Flavour, Food Acid (Citric Acid), Food Acid (Malic Acid), Calcium Lactate, Antioxidant (Ascorbic Acid), Magnesium Sulphate, Thiamine, Riboflavin, Niacin, Pyridoxine, Pantothenic Acid, Vitamin B12.

*Goji Berry Extract (3%) is not an ingredient in Strawberry Kiwi and Lemon Lime flavour.


Do not use if seal is broken. Store below 30°C in a cool, dry place.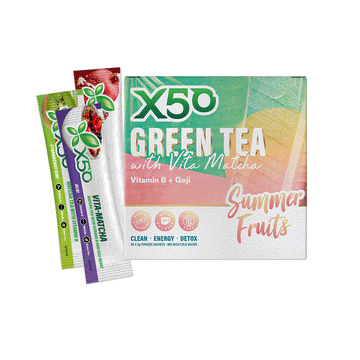 Green Tea X50 with Vita-Matcha 60's