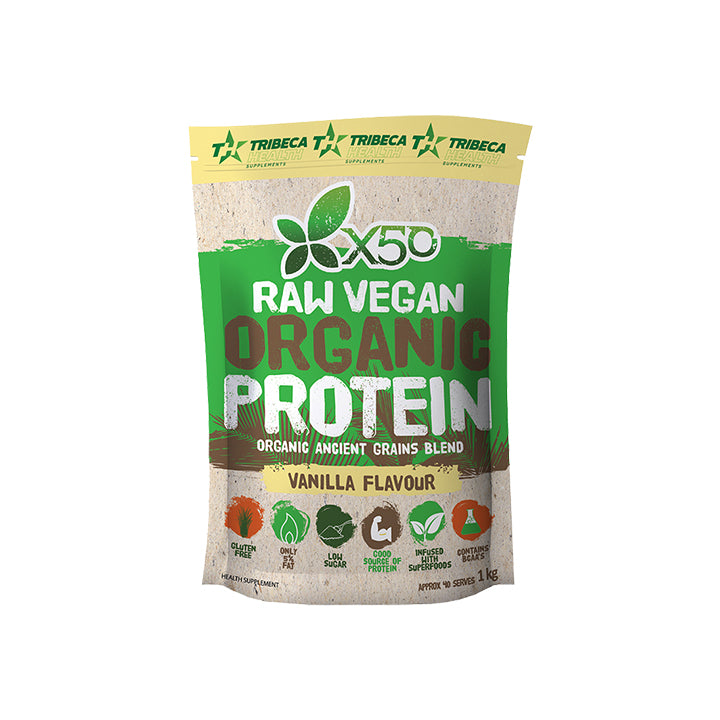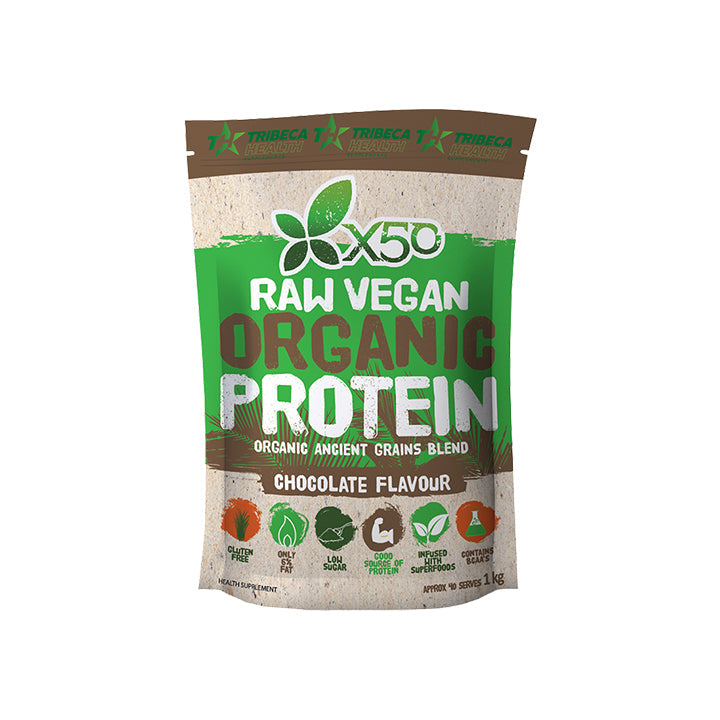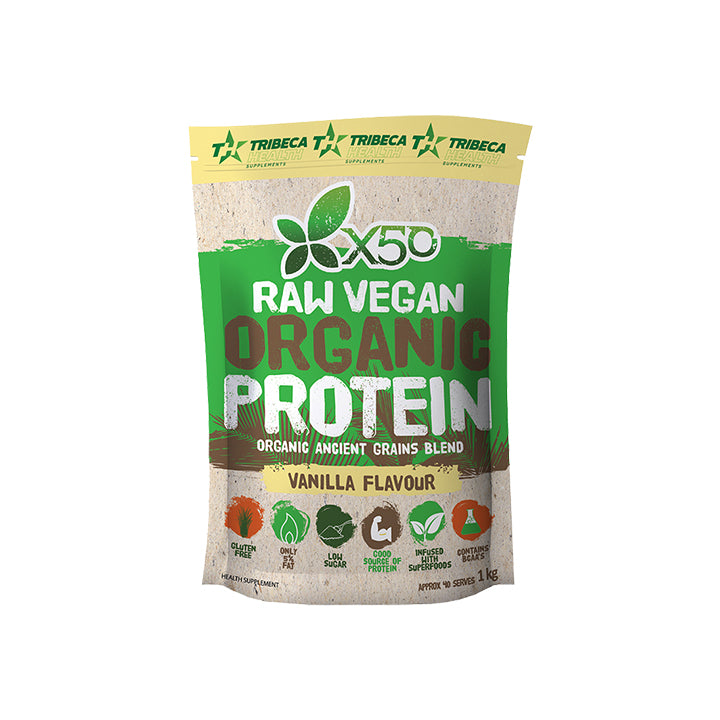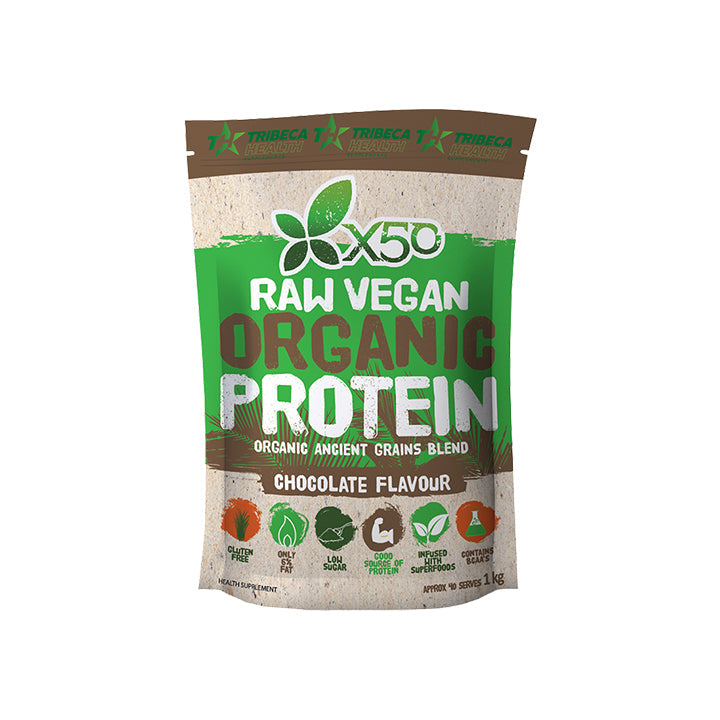 Raw Vegan Organic Vanilla Protein
Regular price
Dhs. 250.00
Sale price
Dhs. 250.00
Regular price
or 4 payments of Dhs. 62.50 AED . No interest, no fees.
Learn more
21 people are viewing this right now
Estimated Delivery:Oct 05 - Oct 09

Free Shipping: ON ALL ORDERS OVER AED 130
X50 Raw Vegan Organic Protein Vanilla 1kg is a must, vanilla is perfect for smoothies, muffins, slices, and protein balls! This great source of protein contains an organic gluten-free ancient grains blend that will blow your mind, it is a delicious superfood blend that even the tough critics love. It added green tea extract for fat burning with no artificial sweeteners, colours, or flavours. To top it off X50 Raw Vegan Protein has a complete amino acid profile made with pea protein concentrate and organic brown rice protein.
No artificial flavours
No artificial sweeteners
No gluten
Yellow Pea Protein
Pea protein is a dairy and gluten-free high-quality protein source with high naturally occurring branched-chain amino acids and comprises 65% of the protein blend in X50.
Organic Brown Rice
Organic Brown Rice protein is a high recovery amino acid-yielding protein source that is dairy and gluten-free, providing a high percentage of BCAA's and is great for maximizing muscle recovery.
Superfood Blend
Utilizing a nutrient-dense superfood blend like the one in x50 ensures optimal health by providing a high dose of naturally occurring antioxidants, vitamins, and minerals, to ensure immune health, cell health, and general bodily functions are maintained optimally.
Consuming high-quality antioxidants has been shown to reduce the negative effects of free radicals, which increase with stressors such as life and exercise, such as decreased systemic inflammation and improved immunity markers.
Nutritional Information & Ingredients
NUTRITIONAL INFORMATION - X50 RAW VEGAN ORGANIC PROTEIN VANILLA
Servings per pack: 40
Serving size: 25g
Ave. QTY
Average Quantity
Per Serving 25g
Average Quantity
Per Serve 100g
Energy
418 kJ (100 Cal)
1670 kJ (400 Cal)
Protein
17.1 g
68.4 g
-Gluten
0.0 g
0.0 g
Fat, total
1.3 g
5.2 g
-Saturated
0.3 g
1.1 g
Carbohydrate
3.1 g
12.4 g
-Sugars
0.5 g
2.0 g
Dietary fibre
1.2 g
4.9 g
Sodium
237 mg
948 mg
COMPOSITIONAL INFORMATION
Potassium
36 mg
145 mg
Green Coffee
25 mg
100 mg
Green Tea
25 mg
100 mg
L-Carnitine
25 mg
100 mg
NATURAL OCCURING AMINO ACID PROFILE
Histidine
525 mg
2100 mg
Isoleucine
1110 mg
4444 mg
Leucine
2240 mg
8960 mg
Lysine
1640 mg
6560 mg
Methionine
295 mg
1180 mg
Phenylalanine
1110 mg
4440 mg
Threonine
840 mg
3360 mg
Tryptophan
232 mg
927 mg
Valine
1160 mg
4660 mg
Alanine
955 mg
3820 mg
Aspartic Acid
2420 mg
9700 mg
Cysteine
308 mg
1230 mg
Glutamic Acid
3780 mg
15100 mg
Glycine
845 mg
3380 mg
Proline
1020 mg
4090 mg
Serine
1120 mg
4490 mg
Tyrosine
830 mg
3320 mg
Arginine
1790 mg
7170 mg

 

This product is sold by weight contents may settle.

Store below 30ºC in a cool dry place. MADE IN AUSTRALIA from local and imported ingredients.

INGREDIENTS: YELLOW PEA PROTEIN CONCENTRATE (64%), ORGANIC BROWN RICE PROTEIN CONCENTRATE (23%), NATURAL SWEETENERS (5%) (XYLITOL, STEVIA), NATURAL FLAVORS, SUPERFOOD BLEND (0.7%) (ORGANIC FREEZE DRIED ACAI, CAMU CAMU, ORGANIC GOJI BERRY, SEA BUCKTHORN JUICE, L-CARNITINE, GREEN COFFEE EXTRACT (0.1%), GREEN TEA EXTRACT (0.1%)), ORGANIC ANCIENT GRAINS BLEND (0.5%) (ORGANIC AMARANTH, ORGANIC QUINOA, ORGANIC BUCKWHEAT, ORGANIC MILLET, ORGANIC CHIA).

Formulated Supplementary Sports Food. This product is not to be used as a sole source of nutrition. It must be used in conjunction with a nutritious diet and appropriate physical training program.

Not suitable for children under 15 years of age or pregnant women: Should only be used under medical or dietetic supervision.
Raw Vegan Organic Vanilla Protein